---
---
For those who like adrenaline with their powder.
1,700 vertical meters / 5,550 vertical feet per day
Good skiers always want more. More vertical, more challenges, more excitement. Many of our long-time clients fall into this category. So we've created our Steep Skiing weeks to give them what they are looking for.
Some people call it "free-riding" and others prefer the name "steep skiing". At the end of the day it is all about skiing challenging and steep terrain in an impressive alpine setting, as we experience high quality powder skiing lines in between cliffs and glacial seracs.
Based out of our Durrand Glacier, Moloch Chalet and the Empire Lake Chalet, Ruedi leads small groups of excellent skiers down many of the steepest lines in the area. It's a chance for guests to push themselves far beyond what they could do in a regular guided program. It's also a chance to learn advanced for skiing steep terrain. A maximum of four guests per group will explore steep runs in the high alpine and trees. The difficulty of the lines will increase as the week progresses.
We don't set specific dates for this program; we build it around the availability of the guests who want to experience it. If this is the right program for you, please contact our Revelstoke office for the your ski week with SME.
If you're ready to summon up some courage and push your boundaries, it's time to find out just how steep you like it.
Best months for steep skiing
Steep Skiing in January
January is historically a good month to ski steep lines, in particular steep southerly aspects but also long and steep couloirs with northerly aspect. There are plenty of impressive lines with very steep "free-ride" drops in the trees and more exposed couloirs in the alpine. Depending on the conditions, January definitely can keep us busy with skiing challenging terrain.
Steep Skiing in April
The entire month of April is an amazing month to ski powder snow, large alpine terrain and also experience steep lines with exposure. At Durand Glacier we ski great powder all of April. The Durrand - Mt. Moloch area has countless big ski-runs that are facing in northerly direction, keeping the powder-snow fresh and light. Also, in April we still receive enough snow-storms with cooler temperatures to cover old tracks and to make sure that there is enough powder. During good weather periods the daytime temperatures are warm and enjoyable, while the nights are cool and temperatures fall to around -10 degree. Cel. This makes sure that all powder snow keeps drying out over night and skiing the following day will be again superb.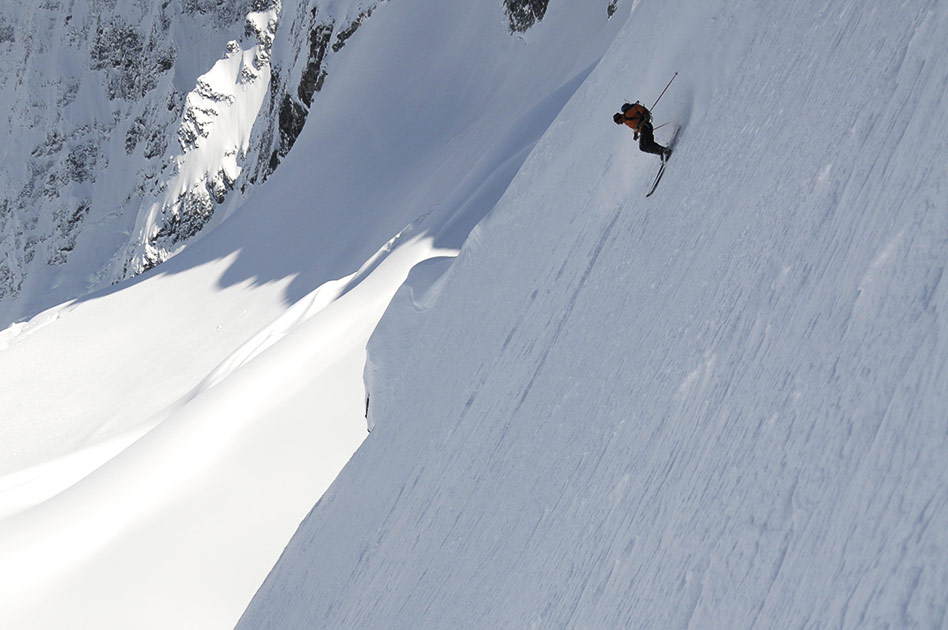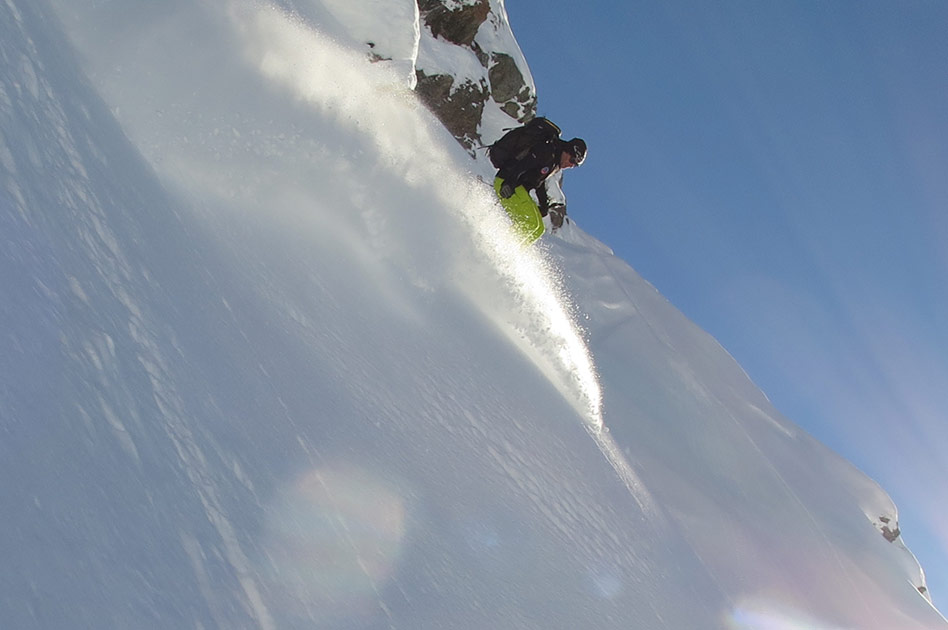 ---