---
---
Skiing the alpine.
Skiing is all about terrain. Dreaming of that amazing line in the alpine, impressive glaciers and breathtaking scenery. Is this the West Alps? … not really. Similar terrain to the West Alps, but much more snow, much better powder and no other people. Nobody will beat us to the ski line that we have been planning to ski. No crowded mountains. This is what Canada's Durrand Glacier is all about.
Skiing the alpine in the Durrand Glacier area is "unreal - unfenced - unfiltered" , it is in the heart of the world's best powder snow and it is the greatest ski-touring anywhere. Large terrain, endless and very impressive glaciers, towering alpine peaks and for the steep skiing "free-rider" numerous challenging alpine couloirs. With an annual snowpack of 7 to 8 meters with 30 cm to 40 cm light powder on the surface, the Durrand Glacier area is, from December until May, the most perfect alpine playground for any skier.
Ruedi realized the potential of the incredible area, the Durrand Glacier area, when he was in search of the best ski touring area in North America. He was looking for impressive terrain, a guaranteed snowpack and perfect powder. Yes, Ruedi had high expectations and he exceeded them.
With the Durrand Glacier Chalet as the main lodge and the two satellite lodges, the Mt. Moloch Chalet and the Empire Lake Chalet, all ski guests get the great opportunity to ski as much terrain of the Durrand Glacier area as possible.
A ski-touring paradise of 96 square kilometers (24,000 acres) over 250 different ski runs, 34 striking alpine peaks, 18 different glaciers and ski runs up to 1660 vertical meters. It is very impressive!
After 30 years guiding in this area, Ruedi is just as excited to ski this grand terrain and super powder as he was on the first day when he came to the Durrand Glacier area. There is a reason why Ruedi, still today, is inspired with guiding in this area. It is a true "superlative" when it comes to skiing powder and large terrain.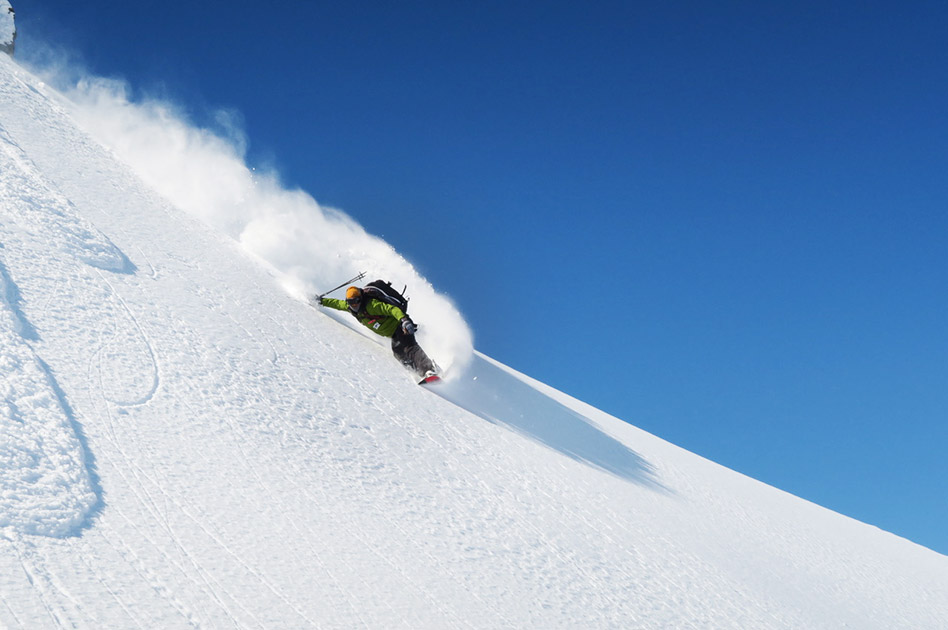 ---