---
---
And classic is the right word.
1,600 vertical meters / 5,250 vertical feet per day
Our Classic 1600+ ski week is legendary among backcountry skiers around the world. After all, it is SME's signature skiing program. No surprise really; when you combine incredible standards of adventure, excitement, safety, and comfort with some of the very best ski terrain and powder-snow anywhere, our guests are going to have a pretty good week.
Actually, pretty good doesn't cut it around here. Ruedi's sense of Swiss perfection, and high passion for sharing the mountains he loves, makes "incredible" and "unforgettable" the only acceptable standards at SME.
Guests arrive at our Durrand Glacier Chalet on a jaw dropping helicopter ride from Revelstoke. After an intensive safety school they are out on their skis exploring our neighborhood the very first day.
Weather and snow conditions will determine what routes our guides choose throughout the week. But what choices! There are 14 glaciers and 26 alpine peaks in our permit area. And that doesn't even include the tree-skiing possibilities. Climbing and skiing an average of over 1,600 vertical meters / 5,250 vertical feet a day, our guests usually total between 10,070 to 12,000 vertical meters / to 35,000 to 40,000 vertical feet in a powder ski week.
With our smaller groups, we take five to six guests per guide, offering three different groups. In doing this guests are able to summit peaks, drop down though powder bowls, and never cross anyone else's tracks. In this 96 square kilometer (24,000 acre) you simply won't meet any other skitourers, except the ski guests who ski with Ruedi and his guides. It doesn't take long for our guests to realize what a remarkable playground Ruedi has found.
It also doesn't take long to realize just how well Ruedi and his guiding team know this incredible area. After skinning and skiing these mountains every day of each winter for decades, their knowledge and instincts enable them to consistently lead their small groups of guests up the best routes and down all the finest powder runs.
Then at the end of the day, they lead you back to the comforts of our Durrand Glacier Chalet. Hot running showers, a sauna, freshly prepared European cuisine, and a relaxing evening reading or talking by the fire. It's all great preparations for climbing into a comfortable bed under a feather duvet for a well-earned sleep.
Many ski guests who come back every winter for another fix of our Classic 1600+. Some of them spend two to four weeks at a time skiing the grand terrain at Durand Glacier. If you've been, you know why. If you haven't, you should find out.
All "Classic 1600+" programs include hut to hut skiing.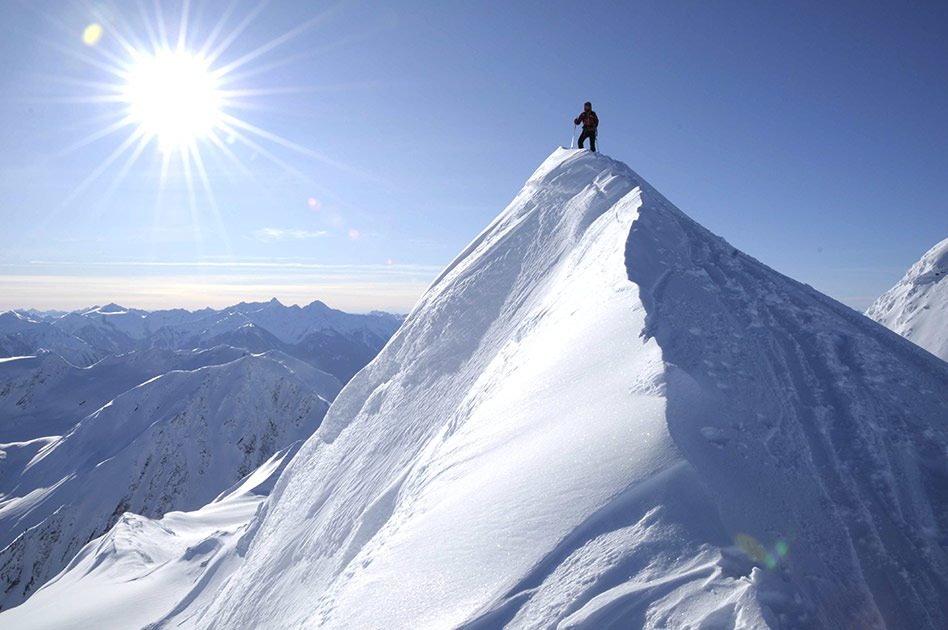 ---