---
The Durrand Glacier, Moloch and Empire Lake Chalets
---
---
---
Durrand Glacier Chalet
Elevation 1946 m. / 6384 ft., built in 1985
The Durrand Glacier Chalet is our main lodge. All guests fly by helicopter from Revelstoke to the authentic Swiss style Durrand Glacier Chalet. This beautiful lodge is located on an incredibly scenic knoll at tree-line with a 360 degree vista including the Durrand Glacier to the east and the glaciated peaks of the Northern Monashee Mountains to the west.
Keeping the wilderness civilized!
You may be staying high in the alpine, less than a one hour walk from a glacier. But we still think you should be very comfortable. We are, after all, from the Swiss Alps. What's more, this lodge is our home, and we like to treat our guests well. That includes Swiss housekeeping standards, private bedrooms with cotton linens, and freshly prepared food with a European flair using local organic produce from the weekly Farmer's Market in Revelstoke. And of course the afternoon tea-time with homemade tortes that, well, once you've had them you'll never want to go outdoors without your personal baker again.
Visitors to our chalet enjoy every possible amenity that you can reasonably expect to find in an environmentally sensitive, remote mountain lodge at 1946 m. elevation; from hot running showers to a large, sunny deck opening out on views you will never forget.
The Durrand Glacier Chalet is where all SME ski-programs start. This lodge is situated in the centre of a large variety of amazing ski runs leaving directly from its doorstep.
Depending on the weather conditions all ski programs include Hut to Hut skiing from the Durrand Glacier Chalet to the more high alpine Mt. Moloch Chalet and/or the Empire Lake Chalet. The combination of the three chalets definitely brings a great diversity into our ski week. Each hut offers unique terrain and ski runs and allows us to maximize the powder skiing and ski-touring experiences.
There are ski-touring weeks where all tours are based out of the Durrand Glacier Chalet. This is a function of weather conditions which may not allow venturing to the Mt. Moloch Chalet or the Empire Lake Chalet. During these weeks we enjoy the over 150 ski runs around the Durrand Glacier Chalet, enough to keep us skiing fresh tracks for a whole week.
During normal weather cylcles we offer the very popular two chalet hut to hut experience. Since the winter of 2014/15, with the new Empire Lake Chalet, we now offer the three chalet hut to hut to hut skiing program: the Canadian Haute Route.
Without doubt skiing at Durrand Glacier is beyond compare. The combination of amazing terrain, professional guiding and the three beautiful, impeccably serviced and maintained chalets is the consummate ski touring vacation.
Location: At the base of the massive Durrand Glacier and at the head-water of Carnes Creek in the Northern Selkirk Mountains, 45 km NE of Revelstoke B.C.
Access: Helicopter only, from Revelstoke B.C. Flight time, dependent on weather conditions, is 15 minutes one way.
Chance that bad weather makes flying impossible: Since 1985 SME has only had to postpone flying, to the next day, one single time due to poor weather-conditions. There might be times when flying is delayed by a few hours due to severe weather conditions. All our pilots are very skilled mountain pilots who have extensive experience in flying in this area and for Selkirk Mountain Experience.
Skiing from the Durrand Glacier Chalet:
3 tree skiing areas with up to 1300 v.m. runs
21 alpine peaks
10 glaciers
Highest ski peak: Snow Cap, elev. 2756 meter
Lowest point to ski: Carnes Creek 1160 meter
Longest ski-run: Tumbledown Mountain - La Traviata – Jealous Fruits – Carnes Creek, 1590 v. meter
Durrand Glacier Chalet
Private and two-person bedrooms, total 11 pine wood guest bedrooms
Large reading room
Sauna
Hot running showers
Indoor plumbing
Satellite guest telephone
Wireless Internet
120 V AC power, self generated hydro electricity
Fully equipped kitchen
Canadian and European cuisine
Austrian Chef
Freshly prepared meals on the premises
Daily baked bread and pastry
European bedding
Dedicated drying room with boot dryers
Ski shop
Powder-Snow rental skis and boots
Immaculate Swiss house keeping standards
Indoor ski storage
Durrand Glacier Chalet

Elevation 1946 meters
---
The Moloch Chalet
Elevation 2205 m. / 7234 ft, built in 1988
The Mt. Moloch Chalet is one of the two deluxe high alpine "satellite" chalets which we use for the two chalet hut to hut skiing programs or the three chalet hut skiing program: The "Canadian Haute Route".
This "little house on the glacier" is located northeast of the Durrand Glacier Chalet, a full day of most impressive ski-touring and powder-snow skiing, in the high alpine of the Mt. Moloch area. The location of the Mt. Moloch Chalet is truly the most fantastic location for a high alpine chalet: on top of an exposed rock outcropping in the centre of a wild amphitheatre formed by of huge glaciers, ice falls, high granite faces and knife edge granite ridges that reach high into the infinite sky.
Access: Ski-tour, from the Durrand Glacier via Mt. Ruth - Ruth Glacier, Diamond Peak - Concordia Ice Fall, Mt.Fang - Juliana Glacier or Forbidden Glacier - Empress Knoll.
Skiing from the Mt. Moloch Chalet:
Alpine terrain, large glaciers, steep couloirs, and picturesque ski peaks
12 alpine peaks
8 glaciers
Highest ski peak: Mt.Graham, elev. 2967 meter. On rare occasions we ski Mt. Baal, elev. 3009 meter.
Lowest point to ski: Tangiers Creek, elev. 1250 meter
Longest ski-run: Mt.Graham - Graham Glacier - Tangiers Creek, 1720 v. meter
The Moloch Chalet
Two and four-person bedrooms, total 4 bedrooms for 10 guests and two staff
Large day-room
Full bedding
Dedicated drying area
Great meals and baking, prepared by the Guide
Immaculate Swiss Mountain Guide house keeping standards
Solar power system and 120 V inverter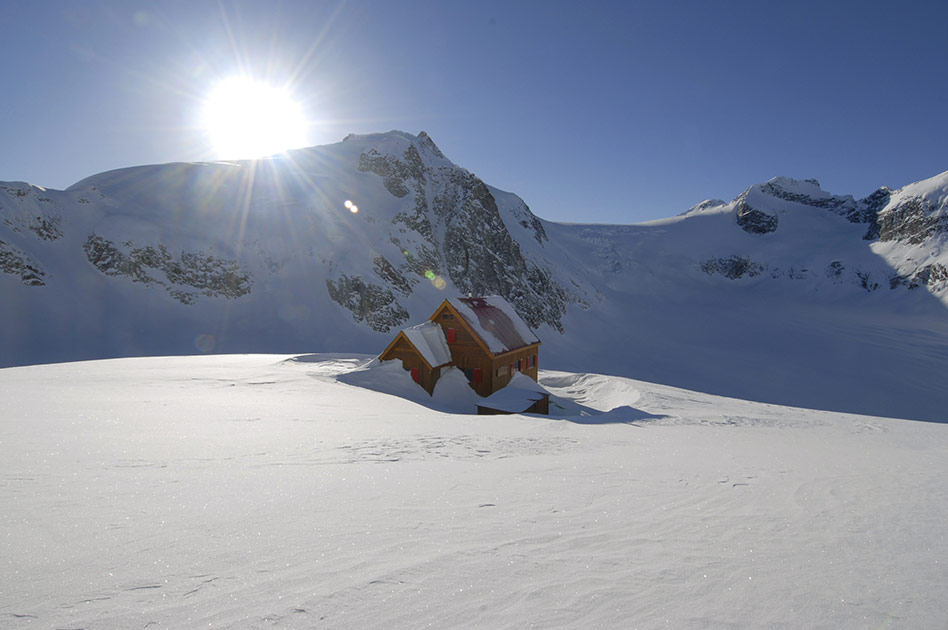 ---
Empire Lake Chalet
Elevation 2118 m. / 6948 ft, built in 2014
The Empire Lake Chalet was designed with 30 years of mountain chalet building experience. Needless to say, nothing is missing. The spectacular location of this charming alpine chalet has views of glaciers in all four directions and is located directly beside the Empire Lake. We use the Empire Lake Chalet for the two chalet "hut to hut" skiing programs or the three chalet hut skiing program: "The Canadian Haute Route".
Skiing from the Empire Lake Chalet:
Alpine terrain, large glaciers, steep couloirs, 10 scenic ski peaks, 6 glaciers
Highest ski peak: Snow Cap, elev. 2756 meter.
Lowest point to ski: Fang Creek, elev. 1600 meter
Longest ski-run: Kaleidoscope, 1112 v. meter
The Empire Lake Chalet
Two and six-person bedrooms, total 3 bedrooms for 10 guests and two staff
Large day-room
Full bedding
Dedicated drying area
Great meals and baking, prepared by the Guide
Immaculate Swiss Mountain Guide house keeping standards
Solar power system and 120 V inverter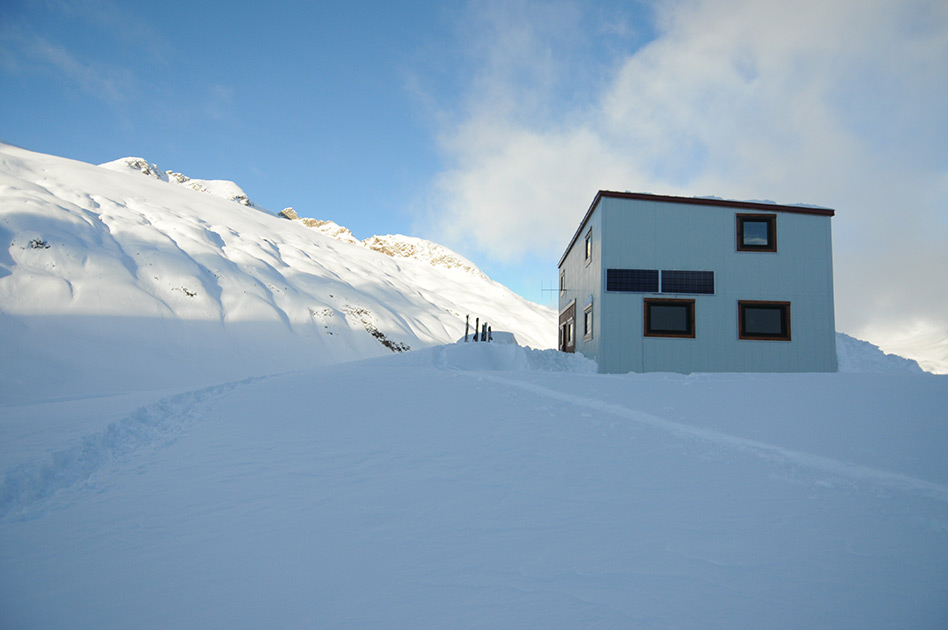 ---