---
---
Fronalp – Glarona trail
Level of hiking: Difficult
Time: 7 hours
Lowest elevation: 1692 m, Twin Falls
Top elevation: 2508 m, Fronalp
Total elevation gain: 1070 m
Total distance: 11 km
Route:
From the Durrand Glacier Chalet follow the main trail past the shower building towards east for 150 meters, cross the tiny stream and continue east for 60 metres more and then follow the main trail branching off towards the left and downhill to a bridge. Cross the bridge and keep following the markers and wide trail to the upper Carnes Creek.
Cross the Carnes Creek Bridge and branch off to the left and walk along the marked trail downhill, along the impressive Carnes Creek. This brings you to the large flat area of the Twin Falls. There do not cross the two bridges, instead walk straight along the trail through the alder patch, crossing the single bridge, and follow the wide trail along the south facing slopes of Tumbledown to the large Tumbledown Gully. Cross the gully or in early summer the avalanche snow and then follow the trail to Tumbledown Lake.
Keep walking along the trail uphill to its end at the Seven Ravens Knoll, elevation 2283 meters (large rock cairn with Prayer Flags). Now walk in northwesterly direction across large scree slopes towards the left most peak of this alpine bowl, Fronalp. If you plan to climb Glarona, from the Seven Ravens Knoll walk straight up the scree slope to the notch at the east side of Glarona. There scramble up a gully and rock-gully to reach the above ridge. Once at the ridge walk in westerly direction to the summit. Descend Glarona along the same route as you climbed. On the way back descend the large scree slopes back to the Seven Ravens Knoll and further along the trail as far as the large flat area of the Twin Falls. There cross the two bridges towards west and to the Twin Falls. Finally follow the marked trail up-hill, back to the Durrand Glacier Chalet.
Grizzly Bear habitat, do not hike by yourself, only in a group!!!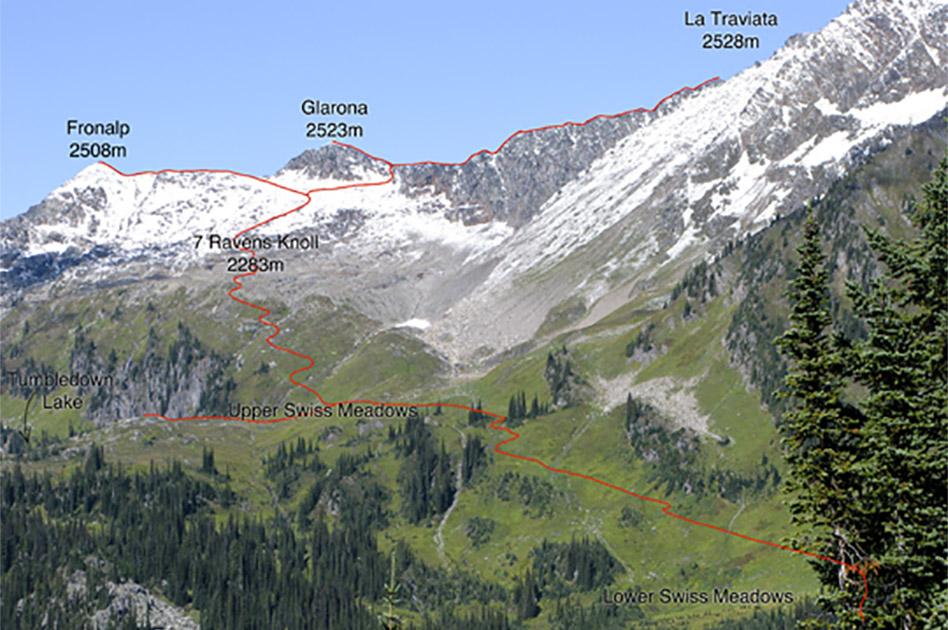 ---