---
---
More Adventure ...
Sometimes the wilderness calls you to get deeper and farther into it. For those who hear that cry, we offer our ski-traverses into the heart of the Columbia Mountains. It is still winter up there in late May, when we take a small group of guests into this remote wilderness. The days are warmers, but the snow remains plentiful and fun to ski. While this trip is outside our normal terrain, we still promise great turns and the opportunity to climb a number of summits.
Normally, week-long ski-traverses require large and heavy packs. But to maximize enjoyment we fly all food, kitchen supplies, and technical gear into designated campsites. It's all waiting there for us at the end of each day.
Yes, that includes a cold beer or two to be shared with the afternoon sunshine.
By dropping supplies ahead, we can pack lightly, and more fully experience the joy of remote high mountain skiing. We can also cover larger distances and explore much more of this seldom-seen landscape.
This program is ideal for those looking for a holiday packed with enough memories and stories to keep skiing on your mind throughout the entire summer. It truly is the ultimate adventure.
Ski Expeditions are also part of Selkirk Mountain Experience. One of Ruedi's favourite areas is the remote Wrangle – St.Elias Range in Alaska. Flying by ski-plane into the endless glacier world of these striking mountains, setting up base camp and high camps, as we climb and ski one or two of these high altitude peaks.
For obvious reasons these traverses and ski expeditions fill early. If you and your skis are hearing the call of the wild, you should answer quickly.
Please contact our office for details of the planed ski-traverses or ski expeditions.
Ability level:
This program takes place in steep and very rugged high-alpine terrain, which has many crevassed glaciers, glacial seracs and other natural skiing challenges. Some of the ski-ascents and ski-descents lead through exposed and technically difficult terrain where safe and efficient ski-techniques and ski-discipline are required.
For this program each guest has to be an accomplished alpine skier who can ski efficiently and safely steep mountain slopes (as found on Black Diamond downhill ski runs in major ski-areas of North America) and in all kinds of snow conditions with a heavy pack of about 25 lbs. We ask that all guests can safely and efficiently ski a perfect fall-line under good control and link a minimum of 30 short-radius turns.
Further it is important that every guest can safely control their skis in difficult terrain and can execute efficient and safe kick-turns in steeper terrain as found in "black diamond runs", side-slip on skis and execute efficient plow-turns.
It is important that everybody on the tour enjoys good health and has no difficulties to acclimatize to higher elevations.
Every guest has to be physically in good shape. We recommend that everybody is doing active out-door endurance sport (ski-touring, downhill skiing, cross-country skiing, biking, long distance jogging etc.) on a regular basis and during the entire year. It is important that you can comfortably ski-climb with a pack of about 25 lbs. for an entire day of 8 hours and that you can cover daily ski-climbs of up to 1400 vertical meters (4600 vertical feet).
It is important that you are able to follow instructions given by the guide.
Further we ask that you have skied with Selkirk Mountain Experience in previous programs, either at Canada's Durrand Glacier or on any other program in Canada, Alaska or the European Alps. This will give you the valuable opportunity to get to know your guide, how Selkirk Mountain Experience runs their programs in achieving the set goals and in reaching a high level of safety.
If you have any questions regarding "Ability Level", please do not hesitate to contact Selkirk Mountain Experience.
Booking Conditions
Selkirk Mountain Experience Ltd. requires a non-refundable 50% deposit of the total program cost in order to confirm your booking.
After you receive our confirmation we ask that you send full payment no later than ten weeks prior to the program starting date.
If full payment is not received ten weeks prior to the starting date of your program, Selkirk Mountain Experience Ltd. reserves the right to forfeit your full deposit and sell your spot to the next person on the waiting list.
Selkirk Mountain Experience Ltd. strongly suggests that you buy travel cancellation insurance that will cover all your paid costs in the event that you have to cancel your program (personal illness, family emergency, work-related cancellation and any other possible reason).
Selkirk Mountain Experience Ltd. reserves the right to cancel any program for what ever reason. In this situation Selkirk Mountain Experience Ltd. will refund all paid money. However, Selkirk Mountain Experience Ltd. is not responsible for any further expenses incurred in preparation for the program.
Waiver of liability
All guests who ski with Selkirk Mountain Experience Ltd. are asked to sign the form RELEASE OF LIABILITY, WAIVER OF CLAIMS, ASSUMPTION OF RISKS AND INDEMNITY AGREEMENT. This form is attached to this Program information letter and we ask you to read and sign it and send it together with your registration back to our office. If you have any questions please feel free to phone our office at 250 837 2381 or email us.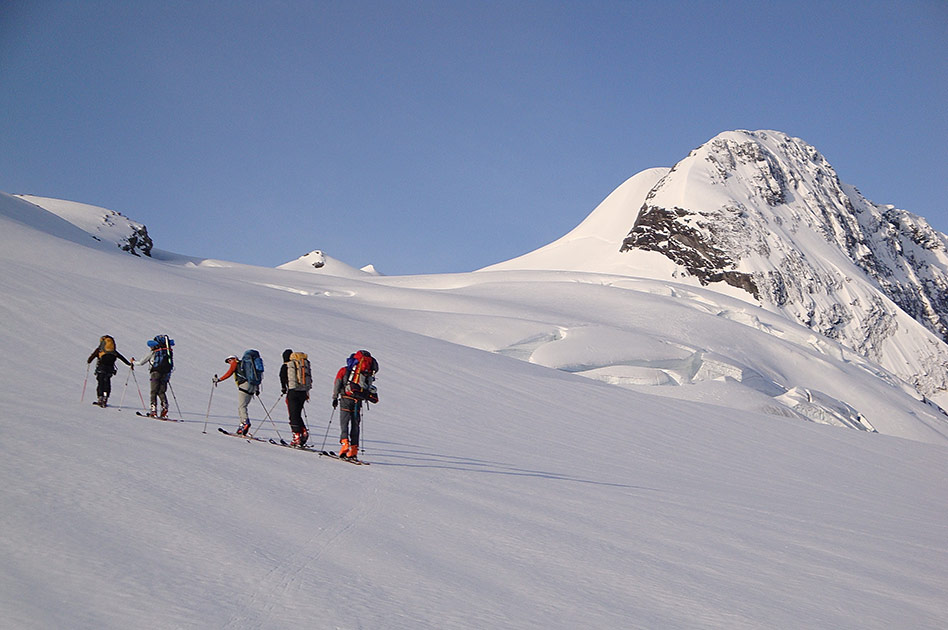 ---