---
---
Summer Packing List Durrand Glacier Chalet
---
Hiking Packing List, Durrand Glacier Chalet
sturdy 1/2 shank hiking boots (waterproof)
gaiters (optional)
hiking pants
long underwear (optional)
warm socks (two pairs)
storm pants (optional)
shorts
two shirts
wool or fleece sweater
storm jacket
warm hat
sun hat
light mitts or gloves
sun glasses
sun screen and lip protection for high alpine use
towel and toiletry set (biodegradable soap and shampoo)
bathing suit for lake
flash light or headlamp
hut shoes (sandals/flip-flops/crocs to walk to the lake)
tea/water bottle
small "Tupperware" container to pack your lunch in (optional)
small day pack (for carrying your lunch etc.)
duffle bag for your journey (large pack are not suited for helicopter travel)
Important:

Because of the helicopter weight restriction we ask all guests to keep their personal luggage to a maximum of 12 kg (25 lbs).
Mountaineering & Hut to hut to hut trekking Packing List
We recommend that you pack your gear / clothing in one smaller size duffle bag and in one medium size back-pack.
Duffle bag
Have some clean clothing, toiletry items and towel in the small duffle bag. After arriving at the Durrand Glacier Chalet, you can store this duffle bag for your return walk on Friday, having some clean clothing.
Back-pack
On the last day of your climbing trip with SME, you have to carry this pack during an easier mountaineering day back to the Durrand Glacier Chalet.
mountaineering / climbing harness (if you don't have them, can be provided by SME)
2 locking carabiners (if you don't have them, can be provided by SME)
ice axe (if you don't have them, can be provided by SME)
crampons (if you don't have them, can be provided by SME)
hiking pole
mountaineering boots such as

Salewa Condor Evo or Raven Combi
La Sportiva Trango Extreme Light
La Sportiva Trango
Asolo full shank mountaineering boot
Important:

"Please make sure your mountaineering boots have a full shank sole that can hold any crampon. We are not able to accept guests with hiking boots or approach shoes for any of our mountaineering programs."
gaiters
mountaineering / climbing pants
socks
spare socks
light-weight Gore Tex storm pants
GoreTex jacket
soft-shell jacket
shirt
spare shirt
toque (hat)
sun hat
warm gloves
sun glasses
spare sun glasses
sun ski-protection
towel
small toiletry set
small flash light
tea / water bottle
camera
spare camera battery and memory chip
Alpine Rock Climbing
In addition to the mountaineering packing list, please bring the below listed items.
belay brake (if you don't have them, can be provided by SME)
climbing helmet (if you don't have them, can be provided by SME)
rock-shoes
chalk and chalk bag
climbing tape for fingers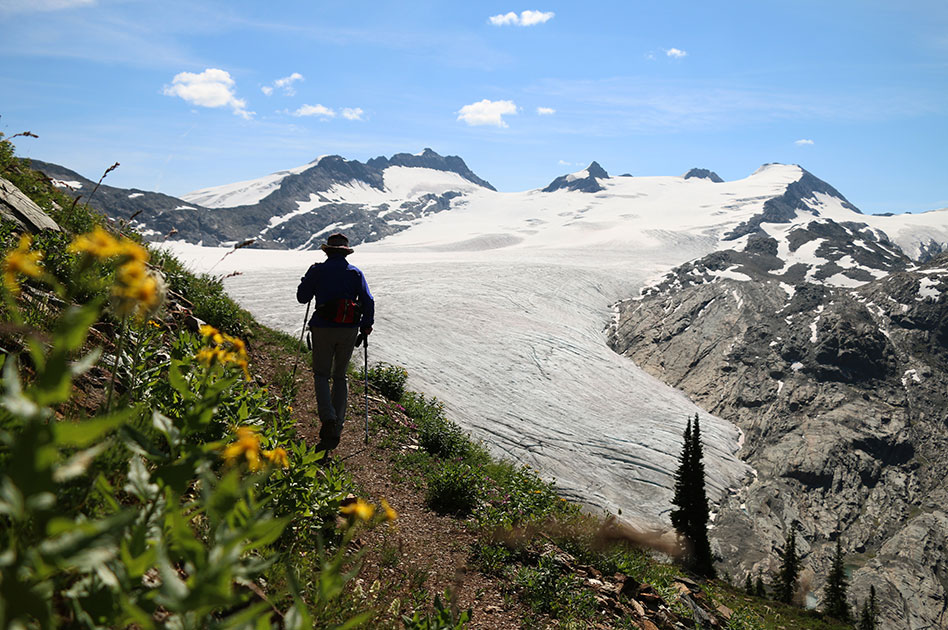 ---