---
---
Paradise Found
---
In 1980, there wasn't a lot of ski touring and ski mountaineering in Western Canada. And there were no catered and guided ski-mountaineering lodges anywhere in North America. That's when Ruedi Beglinger arrived from his native Switzerland to work as a heli-ski guide for a season.
Soon after arriving in Canada, he fell in love with the Selkirk Mountains. He knew he'd found a wilderness paradise of gentle peaks, and long open slopes. He also knew that it would be perfect for skiing and, when the snow melted, perhaps even better for hiking.
Growing up in the Swiss Alps, Ruedi had been ski touring since the age of six and had become an internationally certified mountain guide at the young age of twenty two. He'd also developed both an eye for, and a love of, extraordinary mountain ranges. He discovered the Durrand Glacier and, convinced that it was the most perfect area for ski touring that he had ever seen, he approached the provincial government for a permit to build a backcountry ski and hiking lodge. The Government doesn't move quickly at the best of times and this was a new process for them. It took 18 months to get the permit. But by 1985, Ruedi Beglinger had exclusive use of a staggering 76 square kilometers of glaciers, skiable peaks, and eye-opening terrain. It's an area about three times the size of Whistler-Blackcomb, and it's blessed with a remarkably consistent and reliable snowpack.
Over the years Ruedi married and started raising children here. Selkirk Mountain Experience is a family business now, and the warmth of the summer sun turns this wilderness into a wonderfully benign place. Guests wander through alpine meadows and bask in the utter solitude of our mountain peaks. Visitors come from all over the world to experience our mountains without snow on them. They follow easy, well-marked trails through fields of wild flowers, and drink in stunning views. At the end of the day they relax in a lodge filled with all the comforts they could ever ask for.
Now, a quarter of a century later, Selkirk Mountain Experience is the gold standard of ski touring and alpine hiking and climbing in North America. Guests come from all over the world to experience our mountains and our hospitality.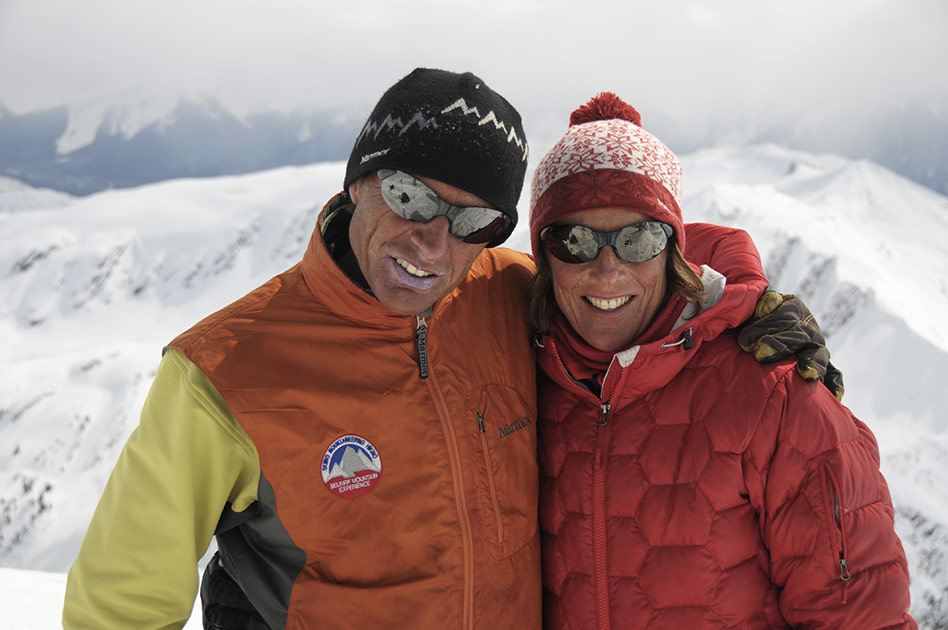 ---