---
---
Pure Granite. Impressive Peaks.
Ruedi invites you to climb the most amazing granite routes out of the remote Mt. Moloch Chalet. A remote but very special alpine area with large glaciers, impressive granite faces and knife edge rock ridges leading to scenic mountain tops.
Rock-climbing and mountaineering are the most adventurous way of exploring mountains and personal goals. Exploring the limits of our comfort zone as we are in search of our "personal boundaries". Realizing that after all we climb for our own destiny, as we reach our personal "Everest". This is the greatest part of rock-climbing or mountaineering. We can choose the level of difficulty and type of terrain we prefer to have fun in and learn about the sport and most of all about our self. This is why at Selkirk Mountain Experience we make sure that in all mountaineering and rock climbing programs the guide / guest ratio is small. In fact, in all technical programs we take only one to maximum two guests per guide. In easy mountaineering programs, glacier travel and easy glaciated peak ascents, we take a maximum of 4 guests per guide. With small groups we are able to cater better to all personal expectations and needs of every guest; if in search of challenge, enjoying a quiet mountaineering week or aiming for a learning experience climbing in small groups does increases every guests quality.
Our programs concentrate exclusively on the remote and high alpine Durrand Glacier – Mt. Moloch area, which is surrounded by wild glaciers and impressive granite walls and ridges. In addition to this very special area 50 km northeast of Revelstoke B.C. in the northern Selkirk Mountains we run programs in the Rogers Pass area and of-course in the many great cragging areas and larger walls surrounding Revelstoke.
Most climbers and mountaineers who are in search of the finest rock routes of North America, most likely have never heard about the grand granite routes in the Durrand Glacier – Mt.Moloch area or the superb rock routes in the Revelstoke area.
At the Durrand Glacier - Mt. Moloch area are over 250 different alpine routes. Easy mountaineering routes with glacier approaches, rock routes from shorter climbs to very long alpine rock routes and difficulties can be as low as scrambling alpine ridges to climbs with very difficult and technical grades. Then there is the scenery, which completely changes from one climb to the next.
It means a lot to all Selkirk Mountain Experience guides to show you the very best time possible in an area that is not overran and spoiled by other climbers, an area where pure serenity still exists and where your experience reaches an absolute high.
My friendly and professional Mountain Guide team and I are looking forward to share the rope with you and to show you why we all enjoy the Durrand Glacier – Mt. Moloch area and the many cragging areas surrounding Revelstoke so much.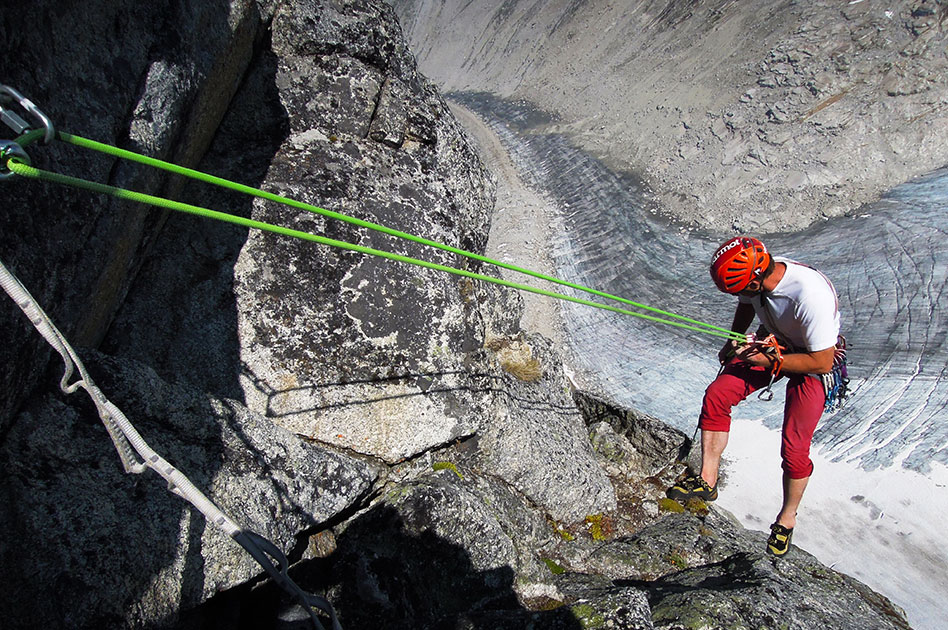 ---